Symptoms
You have a job which went to console using the default restart behavior.
You make an update to the chain fixing the error and then reply to the Operator message for restarting.
Upon Replying to the operator message with restart action, the following error message is displayed:
Exception while handling model model[OMR]request: JCS-102097: Operator Message reply does not match required regular expression
Cause
When a job is modified, upon restart you can choose to use the new version or the old one.
However the registry /configuration/jcs/jobchain/restartversion overwrite the option to choose which version to use when replying to the OperatorMEssage, this result that replying to the operator Message does not match with the real choice option for restart.
Steps to reproduce:
Go to configuration -> Registry and create following

registry path: /configuration/jcs/jobchain/restartversion
Value: latestVersion

Create A chain (ie: RW_Chain)
Add a step with a job which will go into error

ie: Redwood Script using following source:

{

throw new RuntimeException("raising error for testing purposes");

}

Submit the chain
See that the sub-job goes into console and generate an Operator Message
Edit the chain or the job (ie: add a description)
Reply to the Operator Message with action to restart the job
Error is thrown
Workaround
In Redwood UI, go to configuration -> registry and remove the value from following registry key
/configuration/jcs/jobchain/restartversion
You will have now the option to choose which version to restart when replying to the Operator Message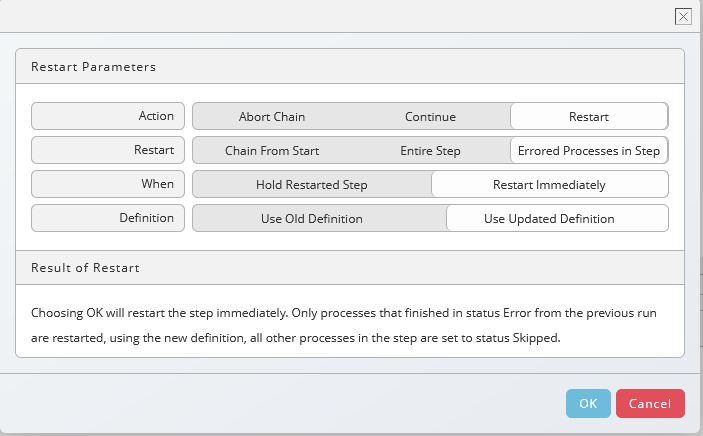 Affected version
RunMyJobs / RunMyFinance
Resolution
This is fixed in 9.2.11.0
Reference
RCORE-33195
RCORE-44153
Error
JCS-122035: Unable to persist: JCS-102097: Operator Message reply does not match required regular expression (^@locale@:com\.redwood\.scheduler\.jobchain\.RaiseError|@locale@:com\.redwood\.scheduler\.jobchain\.MarkCompleted|@locale@:com\.redwood\.scheduler\.jobchain\.RestartStepMaster|@locale@:com\.redwood\.scheduler\.jobchain\.RestartAndHoldStepMaster|@locale@:com\.redwood\.scheduler\.jobchain\.RestartFailedJobsMaster|@locale@:com\.redwood\.scheduler\.jobchain\.RestartAndHoldFailedJobsMaster|@locale@:com\.redwood\.scheduler\.jobchain\.RestartChainMaster|@locale@:com\.redwood\.scheduler\.jobchain\.RestartAndHoldChainMaster|@locale@:com\.redwood\.scheduler\.jobchain\.ContinueAsCompleted|@locale@:com\.redwood\.scheduler\.jobchain\.ContinueAsError$): @locale@:com.redwood.scheduler.jobchain.RestartFailedJobs
at com.redwood.scheduler.model.SchedulerSessionImpl.writeDirtyListLocal(SchedulerSessionImpl.java:1034)
at com.redwood.scheduler.model.SchedulerSessionImpl.persist(SchedulerSessionImpl.java:967)
at com.redwood.scheduler.server.model.ServerModel.doRun(ServerModel.java:619)
at com.redwood.scheduler.server.model.ServerModelViewer.run(ServerModelViewer.java:82)
at com.redwood.scheduler.ui.newmodel.ModelLifeCycle.run(ModelLifeCycle.java:46)
at com.redwood.scheduler.ui.servlet.Servlet.handleRequest(Servlet.java:169)
at com.redwood.scheduler.ui.servlet.Servlet.doPost(Servlet.java:110)
at javax.servlet.http.HttpServlet.service(HttpServlet.java:681)
at javax.servlet.http.HttpServlet.service(HttpServlet.java:764)
at org.apache.catalina.core.ApplicationFilterChain.internalDoFilter(ApplicationFilterChain.java:227)
at org.apache.catalina.core.ApplicationFilterChain.doFilter(ApplicationFilterChain.java:162)
at org.apache.tomcat.websocket.server.WsFilter.doFilter(WsFilter.java:53)
at org.apache.catalina.core.ApplicationFilterChain.internalDoFilter(ApplicationFilterChain.java:189)
at org.apache.catalina.core.ApplicationFilterChain.doFilter(ApplicationFilterChain.java:162)
at com.redwood.scheduler.security.filter.RWSSOFilter.doFilter(RWSSOFilter.java:101)
at org.apache.catalina.core.ApplicationFilterChain.internalDoFilter(ApplicationFilterChain.java:189)
at org.apache.catalina.core.ApplicationFilterChain.doFilter(ApplicationFilterChain.java:162)
at com.redwood.scheduler.security.filter.ExecutorOriginFilter.doFilter(ExecutorOriginFilter.java:77)
at org.apache.catalina.core.ApplicationFilterChain.internalDoFilter(ApplicationFilterChain.java:189)
at org.apache.catalina.core.ApplicationFilterChain.doFilter(ApplicationFilterChain.java:162)
at com.redwood.scheduler.security.filter.ChannelFilter.doFilter(ChannelFilter.java:163)
at org.apache.catalina.core.ApplicationFilterChain.internalDoFilter(ApplicationFilterChain.java:189)
at org.apache.catalina.core.ApplicationFilterChain.doFilter(ApplicationFilterChain.java:162)
at com.redwood.scheduler.security.filter.SecurityFilter.doFilter(SecurityFilter.java:817)
at org.apache.catalina.core.ApplicationFilterChain.internalDoFilter(ApplicationFilterChain.java:189)
at org.apache.catalina.core.ApplicationFilterChain.doFilter(ApplicationFilterChain.java:162)
at com.redwood.scheduler.servlet.UserContextFilter.doFilter(UserContextFilter.java:92)
at org.apache.catalina.core.ApplicationFilterChain.internalDoFilter(ApplicationFilterChain.java:189)
at org.apache.catalina.core.ApplicationFilterChain.doFilter(ApplicationFilterChain.java:162)
at com.redwood.scheduler.security.filter.SameSiteFilter.doFilter(SameSiteFilter.java:82)
at org.apache.catalina.core.ApplicationFilterChain.internalDoFilter(ApplicationFilterChain.java:189)
at org.apache.catalina.core.ApplicationFilterChain.doFilter(ApplicationFilterChain.java:162)
at com.redwood.scheduler.security.filter.HttpMethodFilter.doFilter(HttpMethodFilter.java:73)
at org.apache.catalina.core.ApplicationFilterChain.internalDoFilter(ApplicationFilterChain.java:189)
at org.apache.catalina.core.ApplicationFilterChain.doFilter(ApplicationFilterChain.java:162)
at com.redwood.scheduler.servlet.RequestCharsetFilter.doFilter(RequestCharsetFilter.java:200)
at org.apache.catalina.core.ApplicationFilterChain.internalDoFilter(ApplicationFilterChain.java:189)
at org.apache.catalina.core.ApplicationFilterChain.doFilter(ApplicationFilterChain.java:162)
at org.apache.catalina.core.StandardWrapperValve.invoke(StandardWrapperValve.java:183)
at org.apache.catalina.core.StandardContextValve.invoke(StandardContextValve.java:97)
at org.apache.catalina.authenticator.AuthenticatorBase.invoke(AuthenticatorBase.java:541)
at org.apache.catalina.core.StandardHostValve.invoke(StandardHostValve.java:135)
at org.apache.catalina.valves.ErrorReportValve.invoke(ErrorReportValve.java:92)
at org.apache.catalina.core.StandardEngineValve.invoke(StandardEngineValve.java:78)
at org.apache.catalina.connector.CoyoteAdapter.service(CoyoteAdapter.java:360)
at org.apache.coyote.http11.Http11Processor.service(Http11Processor.java:399)
at org.apache.coyote.AbstractProcessorLight.process(AbstractProcessorLight.java:65)
at org.apache.coyote.AbstractProtocol$ConnectionHandler.process(AbstractProtocol.java:890)
at org.apache.tomcat.util.net.NioEndpoint$SocketProcessor.doRun(NioEndpoint.java:1743)
at org.apache.tomcat.util.net.SocketProcessorBase.run(SocketProcessorBase.java:49)
at org.apache.tomcat.util.threads.ThreadPoolExecutor.runWorker(ThreadPoolExecutor.java:1191)
at org.apache.tomcat.util.threads.ThreadPoolExecutor$Worker.run(ThreadPoolExecutor.java:659)
at org.apache.tomcat.util.threads.TaskThread$WrappingRunnable.run(TaskThread.java:61)
at java.base/java.lang.Thread.run(Thread.java:833)
Caused by: com.redwood.scheduler.model.exception.OperatorMessageReplyFormatException: JCS-102097: Operator Message reply does not match required regular expression (^@locale@:com\.redwood\.scheduler\.jobchain\.RaiseError|@locale@:com\.redwood\.scheduler\.jobchain\.MarkCompleted|@locale@:com\.redwood\.scheduler\.jobchain\.RestartStepMaster|@locale@:com\.redwood\.scheduler\.jobchain\.RestartAndHoldStepMaster|@locale@:com\.redwood\.scheduler\.jobchain\.RestartFailedJobsMaster|@locale@:com\.redwood\.scheduler\.jobchain\.RestartAndHoldFailedJobsMaster|@locale@:com\.redwood\.scheduler\.jobchain\.RestartChainMaster|@locale@:com\.redwood\.scheduler\.jobchain\.RestartAndHoldChainMaster|@locale@:com\.redwood\.scheduler\.jobchain\.ContinueAsCompleted|@locale@:com\.redwood\.scheduler\.jobchain\.ContinueAsError$): @locale@:com.redwood.scheduler.jobchain.RestartFaile